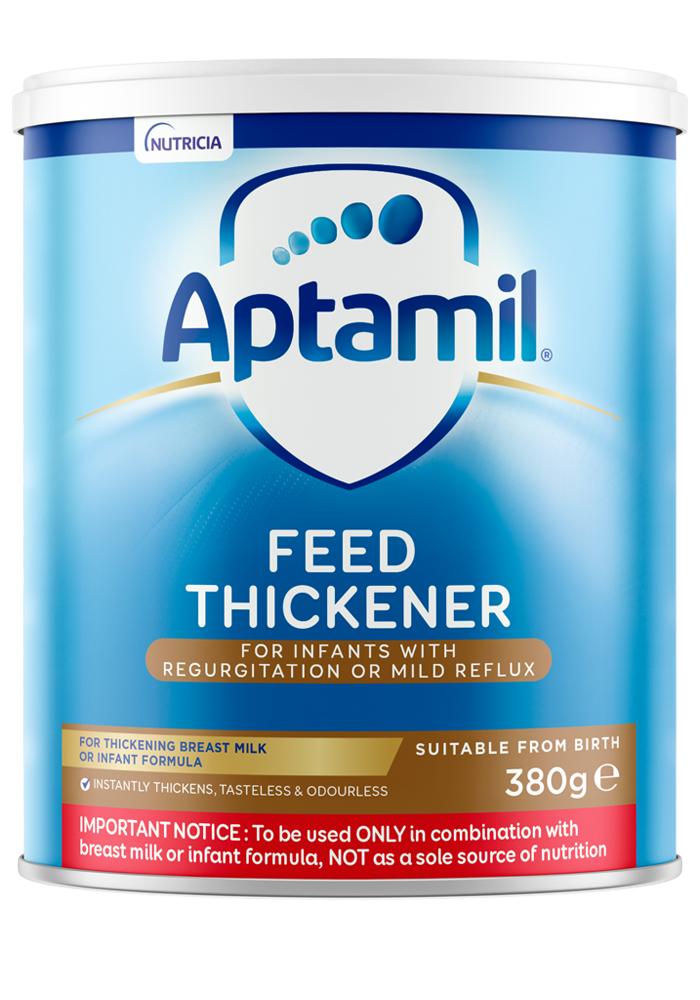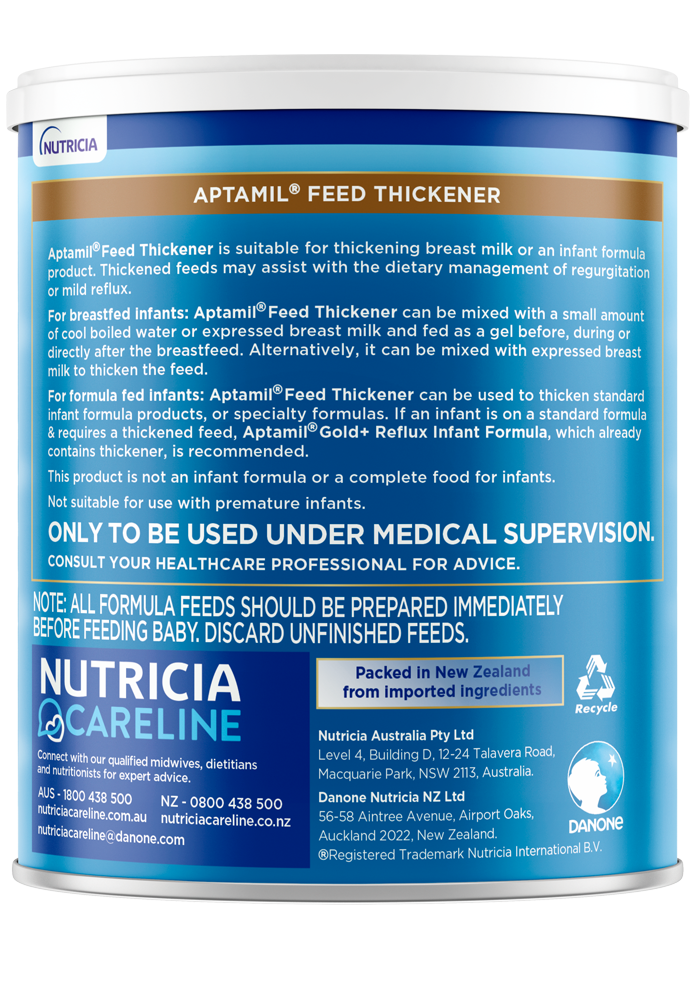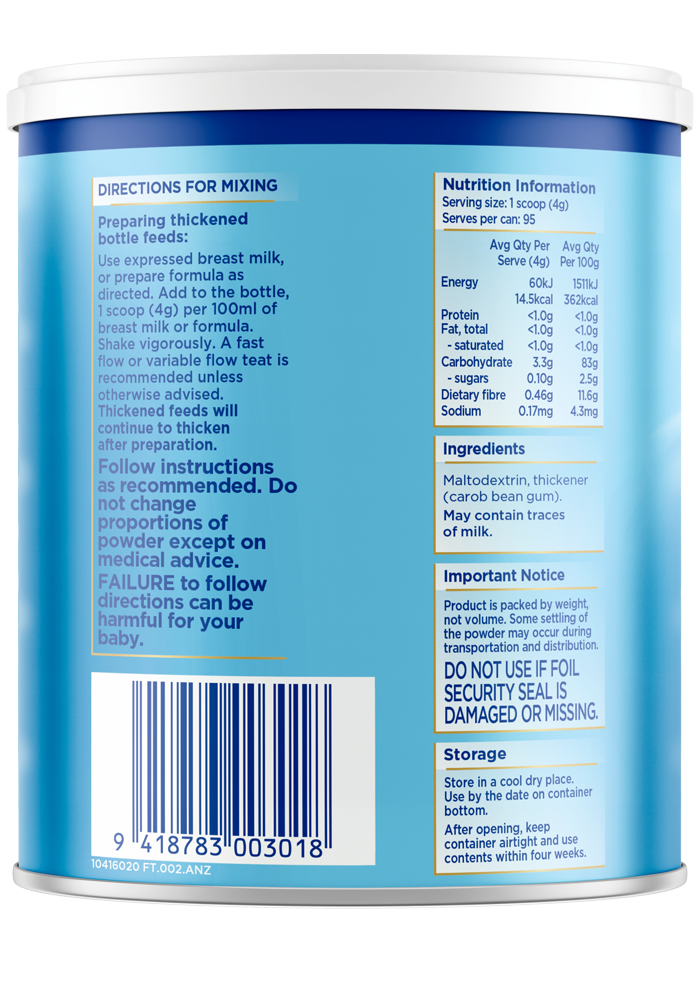 Aptamil® Feed Thickener
Indications
Suitable for healthy breast fed or formula fed infants from birth with uncomplicated, recurrent or problematic regurgitation.
Order information
Contact Nutricia Customer Care 0800 688 747
Flavour
Size
Code
Units per
carton
Pharmacode
Unflavoured
380g
109375
12

2432129
Product Information
Aptamil® Feed Thickener is a thickening agent and may be mixed with breast milk or infant formula to assist in the management of infant regurgitation or mild reflux. IMPORTANT NOTICE: To be used ONLY in combination with breast milk or infant formula, NOT as a sole source of nutrition. Available on prescription, fully PHARMAC funded.
Features
Aptamil® Feed Thickener is a tasteless and odourless thickening agent which may be mixed with breast milk or infant formula to assist in the management of problematic regurgitation. Aptamil® Feed Thickener maintains thickness of feed through the stomach due to the presence of carob bean gum which resists digestion in the mouth. This helps reduce regurgitation frequency in infants.1
Aptamil® Feed Thickener instantly thickens: 
Breast milk.

 

Infant formula.

 
If a thickened infant formula is required, Aptamil® Gold+ Reflux premium thickened infant formula (0–12 months) can be considered.
Should Gastro-
oesophageal
 Reflux Disease be suspected full medical investigation is recommended.
Contraindications for use
Not suitable for premature infants.
Direction

 of 

Use
Preparing thickened bottle feeds: 
Use
expressed
breast
milk
, 
or
prepare
 formula as 
directed
. 
Add
 to 
the
bottle
, 1 
scoop
 (4g) per 100ml of 
breast
milk
or
 formula. 
Shake
vigorously
. A 
fast
flow
or
variable
flow
teat
 is 
recommended
unless
otherwise
advised
.
Thickened
feeds
will
continue
 to 
thicken
after
preparation
. 
Follow
instructions
 as 
recommended
.
Do
not
change
proportions
 of 
powder
except
 on 
medical
advice
. FAILURE to 
follow
directions
can
be
harmful
 for 
your
 baby.
For breastfed infant:
Aptamil® Feed Thickener can be mixed with a small amount of cool boiled water or expressed breast milk and fed as a gel before, during or directly after the breastfeed. Alternatively, it can be mixed with expressed breast milk to thicken the feed
NOTE: ALL FORMULA FEEDS SHOULD BE PREPARED IMMEDIATELY BEFORE FEEDING BABY. DISCARD UNFINISHED FEEDS.
Storage
Store in a cool, dry place.
Use by the date on bottom of the container.
After opening, keep container airtight and use contents within four weeks.
Some settling of the powder may occur.
Allergen and Cultural Information
May contain traces of milk.
Nutritional Information
Average contents
Per Qty Per Serve (8g)
Avg Qty Per 100g
NUTRITION INFORMATION

Energy

121 kJ
1511 kJ

29 kcal
362 kcal

Protein

<1.0 g
<1.0 g

Total Fat

<1.0 g
<1.0 g

—

Saturated

<1.0 g
<1.0 g

Carbohydrate

6.6 g
83 g

—

Sugars

0.20 g
2.5 g

Dietary Fibre

0.93 g
11.6 g

Sodium

0.34 mg
4.3 mg
Ingredients
Maltodextrin, carob bean gum. May contain traces of milk.
References
Wenzl T et al. Paediatrics 2003; 111:e355–e359.
BREAST MILK IS BEST FOR BABIES: Professional advice should be followed before using an infant formula.  Introducing partial bottle feeding could negatively affect breast feeding.  Good maternal nutrition is important for breast feeding and reversing a decision not to breast feed may be difficult.  Infant formula should be used as directed.  Proper use of an infant formula is important to the health of the infant.  Social and financial implications should be considered when selecting a method of feeding.  Infant Formula product for special dietary use to be used under medical supervision.  This product is not suitable for general use.
FOR HEALTHCARE PROFESSIONALS ONLY.