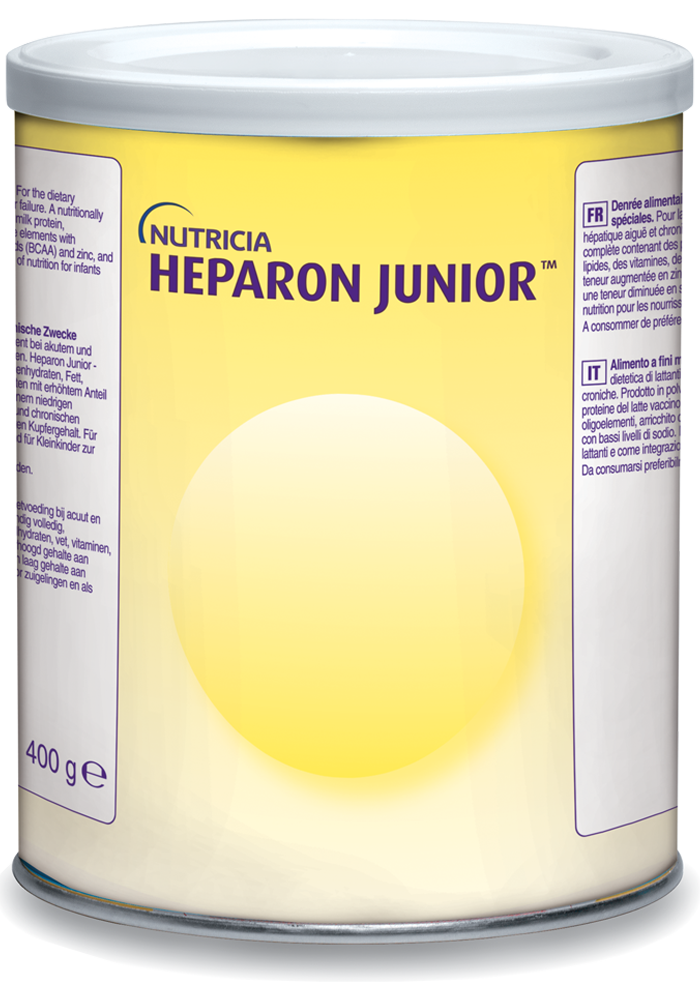 Heparon Junior
Indications
Heparon Junior is designed to provide complete nutritional support or supplementary feeding for infants from birth, and young children, with acute and chronic liver failure.
Order information
Contact Nutricia Customer Care 0800 688 747
| Product | Presentation | Code | Units per carton | Pharmacode |
| --- | --- | --- | --- | --- |
| Heparon Junior | 400g can | 54021 | 6 | 2431645 |
Product Information
A nutritionally complete, powdered formula supplemented with branched chain amino acids (BCAA) and zinc, and a low sodium content, for infants and children with liver failure.
Features
0.86kcal/ml (18% w/v concentration).
2g protein per 100ml (18% w/v concentration).
Supplemented with BCAA and zinc.
Contains cow's milk protein, carbohydrate, fat, vitamins, minerals and trace elements.
Low sodium content (13mg/100ml).
Unflavoured.
Important Notice
Infant formula is not sterile. Formula should be prepared immediately before use.
Not for parenteral use.
Not suitable for patients with galactosaemia.
Professional advice should be followed before using an infant formula. Introducing partial bottle feeding could negatively affect breastfeeding. Good maternal nutrition is important for breastfeeding and reversing a decision not to breastfeed may be difficult. Infant formula should be used as directed. Proper use of an infant formula is important to the health of the infant. Social and financial implications such as preparation requirements and the cost of providing formula up to the age of 12 months should be considered when selecting a method of feeding.
Direction of Use
The quantity of feed should be determined by a clinician or a dietitian only and is dependent on the age, bodyweight and medical condition of the patient.
Follow the preparation instructions as stated on the can.
Four level scoops (18g) of Heparon Junior requires 90ml of water to yield the recommended feed concentration (18% w/v). A lower concentration may initially be required until recommended concentration is tolerated.
For tube feeding, the hang time should not exceed 4 hours.
Storage
Store in a cool, dry place.
Always replace the container lid after use.
Once can is opened, use within one month.
Unopened shelf life is 24 months.
Nutritional Information
Average contents
Per 100g
Per 100ml*
NUTRITION INFORMATION

Energy

480 kcal
86.4 kcal

2016 kJ
363 kJ

Protein

11.1 g
2 g

—

BCAA

30 %

Carbohydrate

64.2 g
11.6 g

—

Sugars

15.9 g
2.9 g

—

as Lactose

6 g
1.08 g

Fat

19.9 g
3.6 g

—

Saturates

11 g
2 g

—

Monounsaturates

2.9 g
0.52 g

—

Polyunsaturates

5.1 g
0.92 g

—

% LCT

51 %

—

% MCT

49 %

—

ω6 / ω3 ratio

6.8:1

Fibre

nil added g
nil added g
MINERALS

Sodium

72 mg
13 mg

3.1 mmol
0.56 mmol

Potassium

420 mg
75.6 mg

10.8 mmol
1.9 mmol

Calcium

509 mg
91.6 mg

Phosphorus

277 mg
49.9 mg

Magnesium

39 mg
7 mg

Chloride

260 mg
46.8 mg

Ca:P ratio

1.8:1
VITAMINS

Vitamin A

567 μg-RE
102 μg-RE

Vitamin D

9.7 μg
1.7 μg

Vitamin E

10.7 mg-α-T.E
1.9 mg-α-T.E

Vitamin K

25 μg
4.5 μg

Vitamin C

58 mg
10.4 mg

Thiamin

0.32 mg
0.06 mg

Riboflavin

0.55 mg
0.1 mg

Niacin

7.5 mg NE
1.4 mg NE

Vitamin B~6~

0.96 mg
0.17 mg

Vitamin B~12~

1.1 μg
0.2 μg

Folic Acid

55 μg
9.9 μg

Pantothenic Acid

2.4 mg
0.43 mg

Biotin

8.3 μg
1.5 μg
TRACE ELEMENTS

Iron

7.2 mg
1.3 mg

Zinc

7.2 mg
1.3 mg

Manganese

0.48 mg
0.09 mg

Copper

220 μg
39.6 μg

Iodine

55 μg
9.9 μg

Molybdenum

17.2 μg
3.1 μg

Selenium

13.2 μg
2.4 μg

Chromium

11.6 μg
2.1 μg
OTHER

Choline

39 mg
7 mg

Inositol

24 mg
4.3 mg

Osmolality

310 mOsmol/kgH₂O
*When prepared at recommended concentration 18% w/v (i.e. 18g powder made up to 100ml with water)
Ingredients
Dried glucose syrup, skimmed milk powder (cow's milk), MCT oil, refined vegetable oil (soya, canola), whey protein concentrate (cow's milk), calcium caseinate (cow's milk), calcium phosphate tribasic, L-leucine, L-valine, L-isoleucine, tripotassium citrate, calcium chloride, L-ascorbic acid, magnesium hydrogen phosphate, calcium carbonate, choline bitartrate, potassium chloride, potassium hydroxide, trisodium citrate, D-alpha tocopheryl polyethylene glycol 1000 succinate, taurine, M-inositol, L-cystine, ferrous sulphate, magnesium citrate, zinc sulphate, L-carnitine, nicotinamide, calcium-D-pantothenate, manganese sulphate, pyridoxine hydrochloride, vitamin A acetate, riboflavin, copper sulphate, thiamin hydrochloride, potassium iodide, folic acid, chromium chloride, vitamin K1, sodium molybdate, sodium selenite, vitamin D3, D-biotin, cyanocobalamin.
FOR HEALTHCARE PROFESSIONALS ONLY.