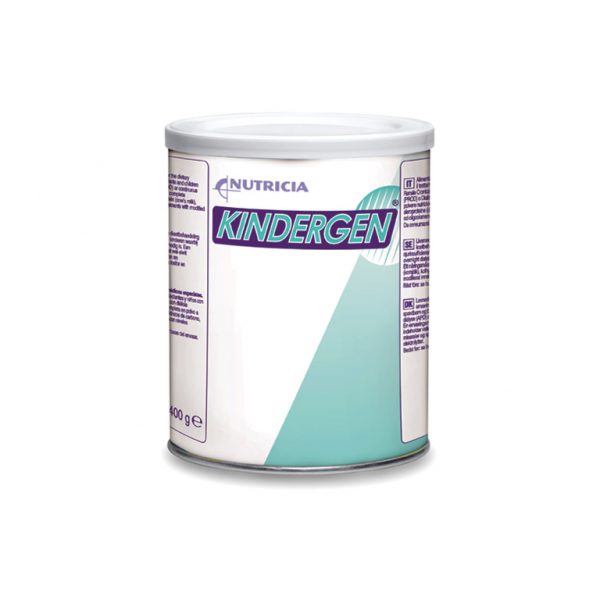 Kindergen
Indications
Kindergen can be used as a sole source of nutrition or as a supplementary feed for the dietary management of infants and children with chronic renal failure and where peritoneal rapid overnight dialysis (PROD) or continuous cycling peritoneal dialysis (CCPD) is required.
Order information
Contact Nutricia Customer Care 0800 688 747
| Size | Code | Units per carton | Pharmacode |
| --- | --- | --- | --- |
| 400g can | 152140 | 6 | 2037246 |
Product Information
A nutritionally complete powdered feed for infants and children with chronic renal failure.
Features
1kcal/ml (20% w/v concentration).
1.5g protein per 100ml (20% w/v)
Low in potassium, chloride, calcium, phosphorus and vitamin A.
Contains whey protein, carbohydrate, fat, vitamins, minerals and trace elements.
Potential renal solute load: 123 mOsm/L.
Unflavoured.
Important Notice
Due to the low potassium, chloride, calcium, phosphorus and vitamin A content in this product, which may be required in chronic renal failure, levels should be monitored and individual nutrients be supplemented if required.
Powdered infant formula is not sterile. Infant formula should be prepared immediately prior to feeding.
Not for parenteral use.
Professional advice should be followed before using an infant formula. Introducing partial bottle feeding could negatively affect breastfeeding. Good maternal nutrition is important for breastfeeding and reversing a decision not to breastfeed may be difficult. Infant formula should be used as directed. Proper use of an infant formula is important to the health of the infant. Social and financial implications such as preparation requirements and the cost of providing formula up to the age of 12 months should be considered when selecting a method of feeding.
Direction of Use
The quantity of feed should be determined by a clinician or dietitian only and is dependent on the age, bodyweight and medical condition of the patient.
Follow preparation instructions as stated on the can.
Four level scoops (20g) of Kindergen requires 84ml of water to yield the recommended feed concentration (20% w/v). A lower concentration may initially be required until recommended concentration is tolerated.
Storage
Store can in a cool, dry place.
Always replace the container lid after use.
Once can is opened, use within one month.
Unopened shelf life is 12 months.
Nutritional Information
Average contents
Per 100g
Per 100ml*
NUTRITION INFORMATION

Energy

498 kcal
100 kcal

2083 kJ
418 kJ

Protein

7.5 g
1.5 g

Carbohydrate

57.6 g
11.6 g

—

Sugars

8 g
1.6 g

—

as Lactose

1.99 g
0.40 g

Fat

25.9 g
5.2 g

—

Saturates

9.1 g
1.8 g

—

Monounsaturates

12.3 g
2.5 g

—

Polyunsaturates

4.3 g
0.85 g

—

ω6 / ω3 ratio

7:1

Fibre

2.8 g
0.56 g
MINERALS

Sodium

230 mg
46.1 mg

9.98 mmol
2.00 mmol

Potassium

119 mg
23.9 mg

3.04 mmol
0.61 mmol

Calcium

229 mg
46 mg

Phosphorus

115 mg
23 mg

Magnesium

54.3 mg
10.9 mg

Chloride

84.1 mg
16.9 mg

Ca:P ratio

2:1
VITAMINS

Vitamin A

128 μg-RE
25.8 μg-RE

Vitamin D

11.9 μg
2.4 μg

Vitamin E

9.01 mg-α-T.E
1.81 mg-α-T.E

Vitamin K

33.4 μg
6.7 μg

Vitamin C

66.2 mg
13.3 mg

Thiamin

0.75 mg
0.15 mg

Riboflavin

1.00 mg
0.20 mg

Niacin

7.52 mg NE
1.51 mg NE

Vitamin B~6~

0.53 mg
0.11 mg

Vitamin B~12~

1.00 μg
0.20 μg

Folic Acid

83.7 μg
16.8 μg

Pantothenic Acid

3.98 mg
0.80 mg

Biotin

18.9 μg
3.80 μg
TRACE ELEMENTS

Iron

7.47 mg
1.50 mg

Zinc

4.13 mg
0.83 mg

Manganese

0.05 mg
0.01 mg

Copper

0.37 mg
0.075 mg

Iodine

94.6 μg
19.0 μg

Molybdenum

12.0 μg
2.41 μg

Selenium

12.9 μg
2.60 μg

Chromium

5.91 μg
1.19 μg
OTHER

Choline

156 mg
31.3 mg

Inositol

124 mg
25 mg

Osmolality

280 mOsmol/kgH₂O
*When prepared at recommended concentration 20% w/v (i.e. 20g powder made up to 100ml with water)
Ingredients
Dried Glucose Syrup, Refined Vegetable Oil (High Oleic Safflower Oil, Non-hydrogenated Coconut Oil, Soya Oil), Whey (cow's milk) Protein Concentrate, Emulsifier (E472c), Trisodium Citrate, Maltodextrin, Magnesium Citrate, L-Leucine, Calcium Phosphate Dibasic, L-Phenylalanine, L-Tyrosine, L-Glutamine, L-Ascorbic Acid, Choline Bitartrate, Potassium Chloride, L-Cystine, L-Histidine, L-Methionine, L-Threonine, L-Valine, Disodium Hydrogen Phosphate, Calcium Chloride, Taurine, Ferrous Sulphate, M-Inositol, Zinc Sulphate, L-Carnitine, Tripotassium Citrate, Nicotinamide, Calcium D Pantothenate, DL-alpha Tocopheryl Acetate, Manganese Sulphate, Copper Sulphate, Pyridoxine Hydrochloride, Thiamine Hydrochloride, Riboflavin, Vitamin A Acetate, Folic Acid, Potassium Iodide, Sodium Molybdate, Chromium Chloride, Sodium Selenite, Vitamin K1, D-Biotin, Vitamin D3, Cyanocobalamin.
FOR HEALTHCARE PROFESSIONALS ONLY.