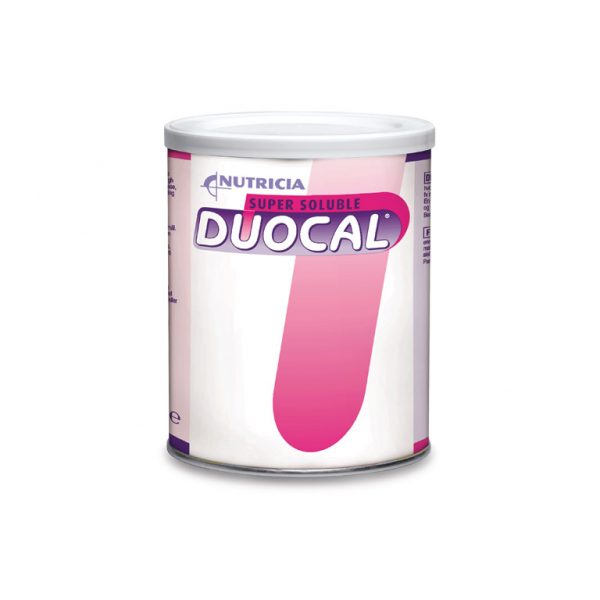 DUOCAL
Indications
For use as a food fortifier to enhance energy intake in a wide range of conditions requiring a high energy, low fluid diet, such as renal disease, liver disease and catabolic stress. Suitable for infants, children and adults.
Order information
Contact Nutricia Customer Care 0800 688 747
| Size | Code | Units per carton | Pharmacode |
| --- | --- | --- | --- |
| 400g can | 49763 | 6 | 727113 |
Product Information
A powdered blend of fat and carbohydrate.
Important Notice
Use under medical supervision.
Not for parenteral use.
Not suitable for use as a sole source of nutrition.
Direction of Use
Due to its neutral taste, Duocal can be incorporated easily into normal foods where there is a requirement for extra calories.
Can be taken as a supplementary drink flavoured with fruit or other flavours to taste.
Measure the required amount of powder.
Add powder to the volume of water required, stirring continuously with a fork until all the powder has dissolved. Once reconstituted consume within 2 hours.
Can be added to infant formula. Suggested amount: add 1 scoop (approx. 1.2g) per 100ml infant formula. Suggest increase daily by 1.2g increments as tolerated by the infant.
If the powder is added to infant formula follow strict hygienic measures to prevent contamination.
Storage
Store in a cool, dry place.
Always replace the container lid after use.
Once opened, use within one month.
Use immediately after reconstitution.
Stir or shake immediately before serving.
Nutritional Information
Average contents
PER 100G
NUTRITION INFORMATION

Energy

492 kcal

2061 kJ

Protein

nil added g

Carbohydrate

72.7 g

—

sugars

6.5 g

Fat

22.3 g

—

saturates

8.4 g

—

monounsaturates

9.7 g

—

polyunsaturates

3.1 g

—

LCT

65 %

—

MCT

35 %

—

LA/ALA

4:1

—

% energy from linolenic acid

4.4 %

—

% energy from α-linolenic acid

1.13 %

Dietary fibre

nil added g
MINERALS

Sodium

< 20 (<0.9) mg (mmol)

Salt

<0.05 g

Potassium

< 5 (<0.1) mg (mmol)

Chloride

< 20 (<0.6) mg (mmol)

Calcium

< 5 (<0.1) mg (mmol)

Phosphorus

< 5 (<0.2) mg (mmol)

Magnesium

< 5 (<0.2) mg (mmol)
VITAMINS

Vitamin E

2.9 mg-α-T.E
Ingredients
Dried Glucose Syrup, Fractionated Coconut Oil, Hybrid Safflower Oil, Canola Oil, Emulsifier (E472(c)).
FOR HEALTHCARE PROFESSIONALS ONLY.