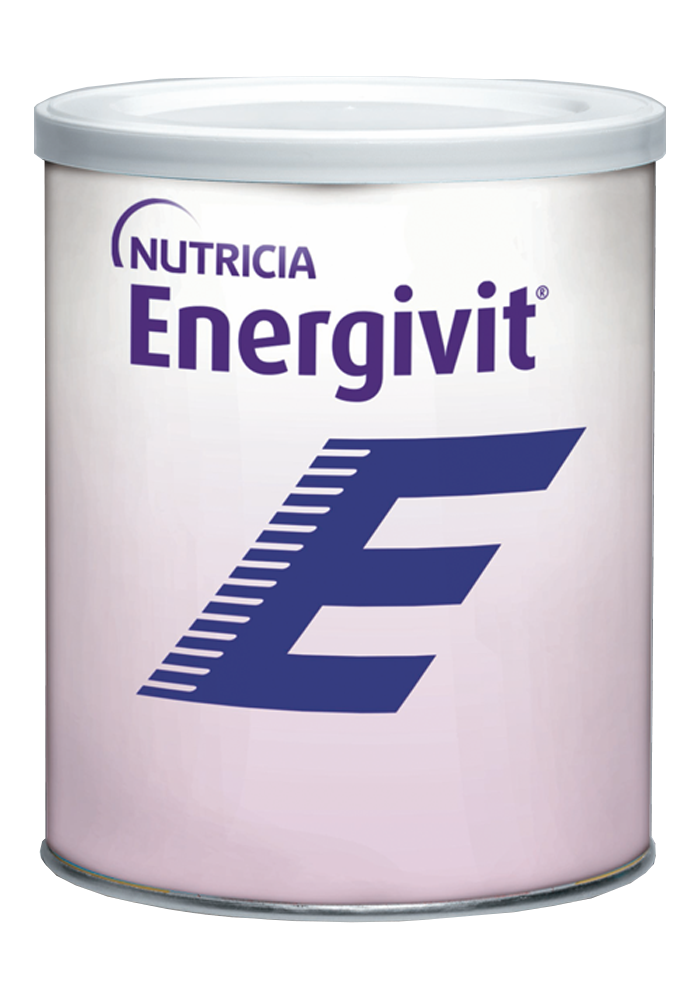 Energivit
Indications
Suitable for use from birth through to children requiring additional energy, vitamins, minerals and trace elements or who are following a restricted protein diet.
Energivit can be used in conjunction with specific amino acid mixtures to provide a formula individually tailored to meet the patient's specific needs.
Can also be used as a convenient protein free feed in the short term, for example as an emergency regimen.
Order information
Contact Nutricia Customer Care 0800 688 747
| Size | Code | Units per carton | Pharmacode |
| --- | --- | --- | --- |
| 400g | 49794 | 6 | 2000628 |
Sample Requests
Please contact the Nutricia Metabolic Key account manager
for your region.
Product Information
A protein free powder containing carbohydrate, fat, vitamins, minerals and trace elements.
Important Notice
Powdered infant formula is not sterile.
Infant formula should be prepared immediately prior to feeding and any remaining formula should be discarded if not used within one hour.
Formula should not be warmed for longer than 15 minutes prior to feeding.
Do not boil formula and do not use a microwave oven to prepare or warm formula.
Direction of Use
The health of the infant depends on carefully following the directions for preparation and use. Incorrect preparation can make the baby ill.
Use only the scoop provided. Each level scoop (5g) of Energivit formula requires 30ml of water to yield the recommended feed concentration (15% w/v).
When preparing any infant feed, please follow the guidelines below:
Wash hands thoroughly and clean the preparation area. Sterilise bottles and teats (if using).
 Boil fresh water for five minutes and allow to cool for at least 30 minutes so that it feels warm to the wrist. Pour the required amount of water into a sterilised feeding bottle.
Fill the scoop provided with infant formula and level off with a clean dry knife. Do not press the powder into the scoop. Only use the scoop provided.
 Add the prescribed number of scoops of infant formula to the water. Replace cap on the bottle and shake until powder is dissolved. Before feeding, ensure that the formula is at the correct temperature by placing a few drops on the wrist.
 Formula remaining in the bottle after one hour of feeding should be discarded. Formula must not be rewarmed during feeding.
Storage
Store in a cool, dry place.
Always replace the container lid after use.