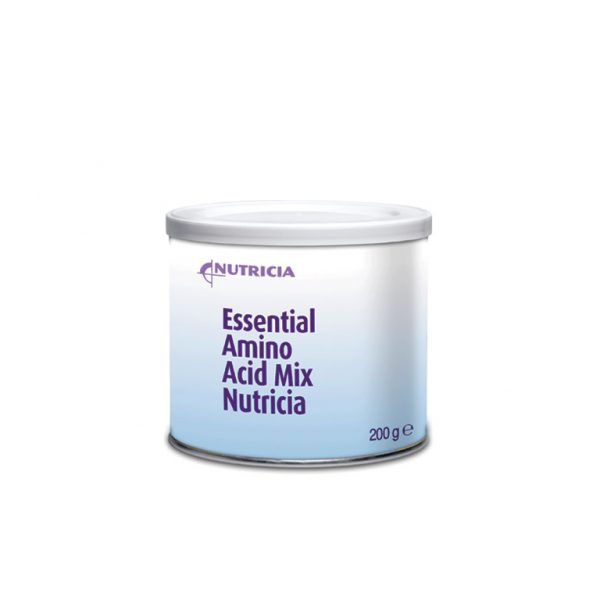 Essential Amino Acid Mix
Indications
For use as a supplementary protein source, where essential amino acids only are required, rather than whole protein or peptides e.g. in severe malabsorption and allergy or acute liver failure when a liver related inborn error of metabolism is suspected. Essential Amino Acid Mix may be used for those on low protein diets requiring essential amino acid supplementation  and in the dietary management of certain UCD and arginase deficiency.
Suitable for infants, children and adults.
Order information
| Flavour | Size | Code | Units per carton | Pharmacode |
| --- | --- | --- | --- | --- |
| Unflavoured | 200g | 53066 | 6 | 2389053 |
Product Information
A powdered mix of essential amino acids. Available on prescription, fully PHARMAC funded.
Important Notice
Use under medical supervision.
Not for parenteral use.
Not suitable for use as a sole source of nutrition.
Direction of Use
Essential Amino Acid Mix may be taken as a drink or a paste.
Suggested dilutions is 1 to 20, i.e. 5g of powder plus 100ml of water.
Mix the prescribed amount of powder to a paste with cold water and make up the required volume.
If taken as a paste, water or diluted drinks should be offered at the same time.
Storage
Store in a cool, dry place.
Always replace the container lid after use.
Once opened, use within one month.
Once reconstituted, store in a refrigerator and consume within 24 hours.
Stir or shake immediately before serving.
Nutritional Information
Average contents
PER 100G
PER 5G*
NUTRITIONAL INFORMATION

Energy

316 kcal
15.8 kcal

1343 kJ
67.2 kJ

Protein

79 g
4 g

Carbohydrate

nil added g
nil added g

Fat

nil added g
nil added g

Dietary fibre

nil added g
nil added g

Water

—

osmolality

- mOsm/kgH₂O
360 mOsm/kgH₂O
AMINO ACID PROFILE

—

L-Cystine

3.78 g
0.19 g

—

L-Histidine

3.78 g
0.19 g

—

L-Isoleucine

10.4 g
0.52 g

—

L-Leucine

16.17 g
0.81 g

—

L-Lysine

13.25 g
0.66 g

—

L-Methionine

3.78 g
0.19 g

—

L-Phenylalanine

5.67 g
0.28 g

—

L-Threonine

11.35 g
0.57 g

—

L-Tryptophan

2.36 g
0.12 g

—

L-Tyrosine

9.46 g
0.47 g

—

L-Valine

14.56 g
0.73 g
Ingredients
L-Lysine Acetate, L-Leucine, L-Valine, L-Threonine, L-Isoleucine, L-Tyrosine, L-Phenylalanine, L-Histidine, L-Cystine, L-Methionine, L-Tryptophan. 
FOR HEALTHCARE PROFESSIONALS ONLY.