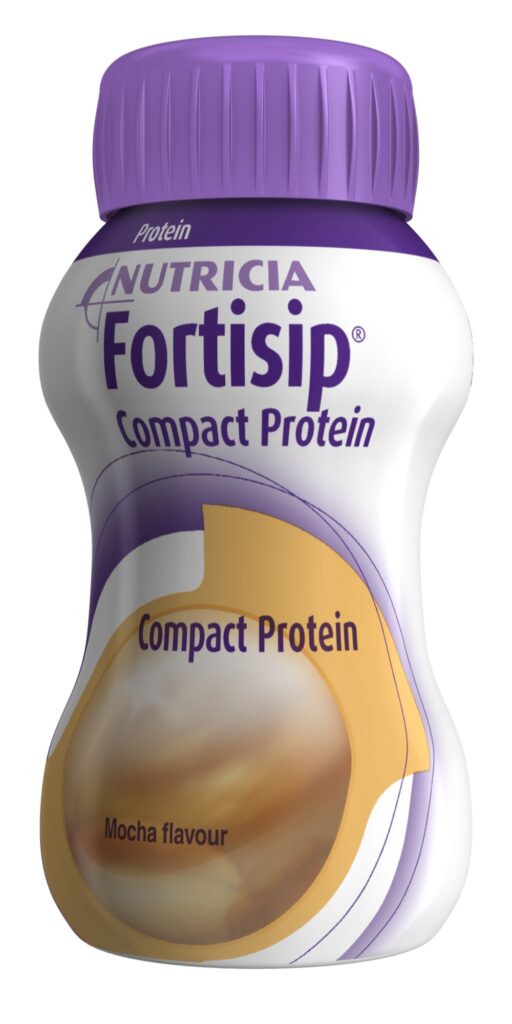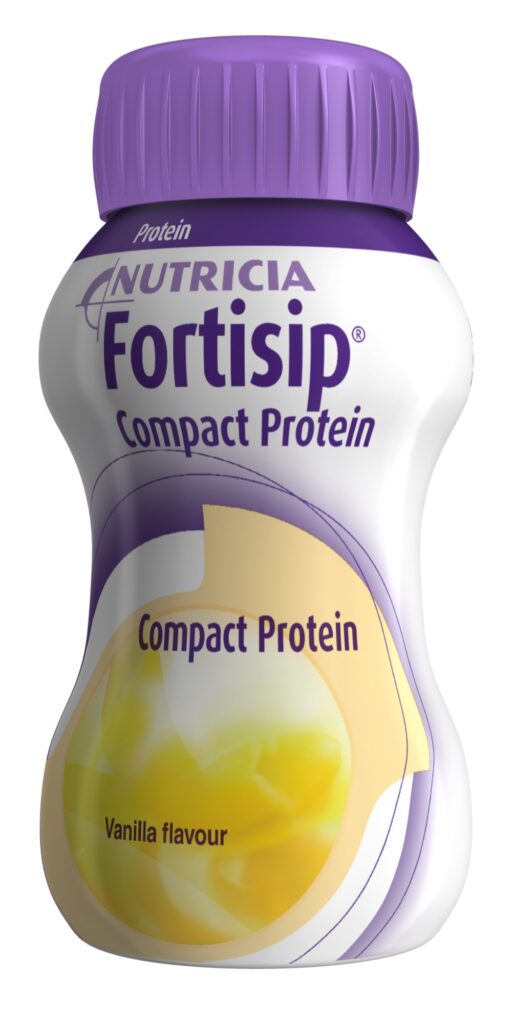 Fortisip Compact Protein
300kcal / bottle (2.4 kcal/ml): energy dense to maintain body weight and support compliance.1
18g protein / bottle (24% energy): high protein to meet increased protein requirements and limit muscle mass loss.2
High compliance: Significantly higher compliance (91%) when compared to standard 1–2kcal/ml oral nutrition supplements (77%).1
2 flavours designed especially for oncology patients (Neutral & Hot Tropical Ginger): to help address the taste alterations associated with cancer treatment.3
Product Information
A ready-to-drink, high energy, high protein, low volume oral nutritional supplement.
Indications
For the dietary management of:
Disease-related malnutrition (DRM) including patients with cancer, post-trauma, cystic fibrosis, burns, dementia, chronic obstructive pulmonary disease (COPD) and diseases requiring a fluid restriction e.g. liver disease, renal disease.
Patients with high energy and protein requirements.
Important Notice
Not suitable as a sole source of nutrition.
Not for parenteral use.
Not suitable for patients with galactosaemia.
Not suitable for patients with cows' milk protein allergy.
Not suitable for children under 3 years of age.
Use with caution in children aged 3-6 years.
Directions for Use
Best served chilled.
Shake well before use.
Usage to be determined by a healthcare professional.
Storage
Store in a cool, dry place.
Once opened, store in the refrigerator.
Discard unused content after 24 hours.
Ordering Information
Contact Nutricia Customer Care 0800 688 747
| | | | | |
| --- | --- | --- | --- | --- |
| Fortisip Compact Protein | Presentation | Code | Units per carton | Pharmacode |
| Mocha | 125ml bottle | 71544 | 24 | 2593696 |
| Vanilla | 125ml bottle | 71542 | 24 | 2634244 |
|   |   |   |   |   |
Ingredients
Full ingredients list and nutritional information available on Factsheet.
Allergen & Cultural Information
Contains: cows' milk protein and soy.
Does not contain: wheat, egg, nuts*, lupins.
Halal certified.
No gluten containing ingredients. No detectable gluten when tested to a sensitivity level of less than 5 parts per million (<5 ppm i.e. <5mg/kg).
Low lactose (lactose <2g/100g).
References
Hubbard GP, Elia M, Holdoway A, et al. A systematic review of compliance to oral nutritional supplements. Clin Nutr. 2012;31:293-312.
Ross PJ, Ashley S, Norton A, et al. Do patients with weight loss have a worse outcome when undergoing chemotherapy for lung cancers? Br J Cancer. 2004;90:1905-11.
Spotten LE, Corish CA, Lorton CM, et al. Subjective and objective taste and smell changes in cancer. Ann Oncol. 2017;28:969-84.
Additional Information
* Peanut (Arachis hypogaea), Almond (Amygdalus communis L .), Hazelnut (Corylus avellana), Walnut (Juglans regia), Cashew (Anacardium occidentale), Pecan nut (Carya illinoiesis (Wangenh.) K. Koch), Brazil nut (Bertholletia excelsa), Pistachio nut (Pistacia vera), Macadamia nut and Queensland nut (Macadamia ternifolia), and products thereof.