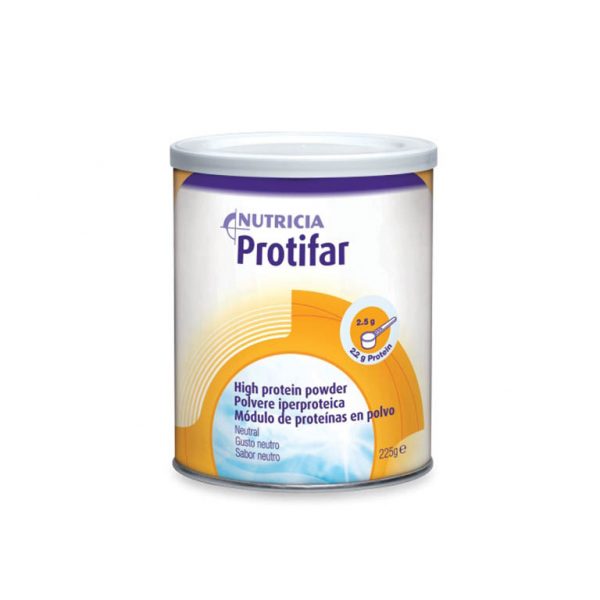 Protifar
A high protein supplement for the dietary management of patients with hypoproteinaemia.
2.2g protein, 9kcal and 34mg of calcium per scoop (2.5g).
Neutral flavour to enable mixing into food or fluids and cooking without significantly altering flavour or texture.
Low mineral content.
Fibre free.
Product Information
A high protein supplement for the dietary management of patients with hypoproteinaemia.
Indications
For the dietary management of:
Disease-related malnutrition.
Patients with high protein requirements.
Patients with hypoproteinaemia.
Important Notice
Not suitable as a sole source of nutrition.
Not for parenteral use.
Not suitable for patients with galactosaemia.
Not suitable for patients with cow's milk protein allergy.
Not suitable for children under 3 years of age.
Not suitable for patients requiring a protein restricted diet.
Direction for Use
One level scoop (2.5g powder) provides approximately 2.2g of protein. Use only scoop provided in the packaging to ensure serving consistency.
Mix the required amount of Protifar with sufficient cold liquid to form a smooth paste. Stir into the food/drink.
Prepare the food or drink per serving.
Consume prepared food or drink within 2 hours. Discard any unfinished food or drink.
Usage to be determined by a healthcare professional.
Storage
Store in a cool, dry place.
Once opened, use contents within one month.
Replace lid firmly after use.
Do not refrigerate.
Order Information
Contact Nutricia Customer Care 0800 688 747
Protifar

Code

 

Units per carton

 

Pharmacode

225g can

 

56868

24

279269
Ingredients
Full ingredients list and nutritional information available on Factsheet.
Allergen & Cultural Information
Contains: cow's milk protein, soy.
Does not contain: wheat, egg, nuts*, lupins.
Halal certified.
No Kosher forbidden ingredients.
No gluten containing ingredients. No detectable gluten when tested to a sensitivity level of less than 5 parts per million (<5 ppm i.e. <5mg/kg).
Low lactose (lactose <2g/100g).
Additional Information
* Peanut (Arachis hypogaea), Almond (Amygdalus communis L .), Hazelnut (Corylus avellana), Walnut (Juglans regia), Cashew (Anacardium occidentale), Pecan nut (Carya illinoiesis (Wangenh.) K. Koch), Brazil nut (Bertholletia excelsa), Pistachio nut (Pistacia vera), Macadamia nut and Queensland nut (Macadamia ternifolia), and products thereof.