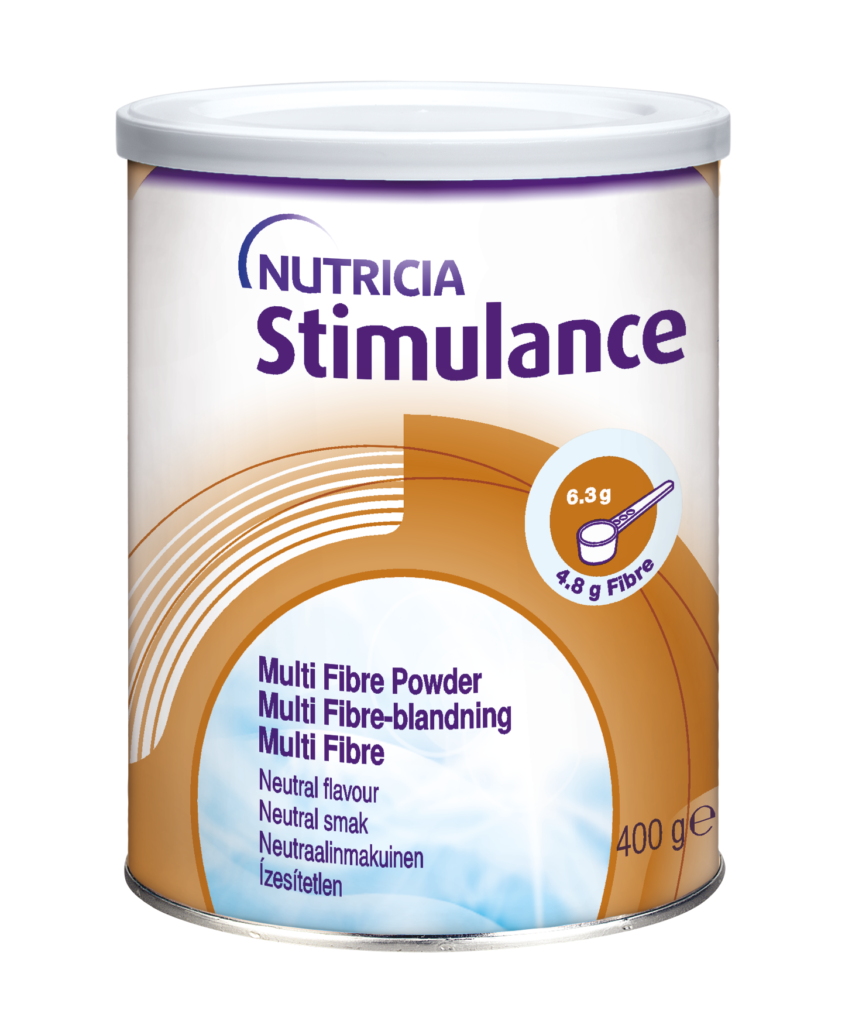 Stimulance
A unique supplement containing a mix of soluble and insoluble dietary fibres in powder form.
Unique MF6# blend of soluble and insoluble fibre: mimics fibre intake in a normal diet.1
Ratio of soluble:insoluble (60:40): mixture of fibres have synergistic effect on supporting bowel health and improving tolerance.2-6
Neutral taste: can be added to sweet and savoury foods/fluids and used in cooking and/or baking.
Product Information
A unique multi fibre supplement containing a mix of soluble and insoluble dietary fibres in powder form.
Indications
For the dietary management of:
Constipation or irregular bowel function.
Patients with increased fibre requirements.
Patients with insufficient fibre intake.
Important Notice
Not suitable as a sole source of nutrition.
Not suitable for parenteral use.
Not suitable for patients with galactosaemia.
Not suitable for children under 1 years old.
Not suitable for patients requiring a fibre free diet.
Not suitable for patients with inflammatory bowel disease, intestinal ileus or preparing for bowel investigation/surgery, unless under strict medical supervision.
Direction for Use
One level scoop (6.3g of powder) provides approximately 5g of fibre. Use only scoop provided in the packaging to ensure serving consistency.
Mix 1 scoop with 20ml hot water, then stir into serving of food or drink. Alternatively, add 1 scoop directly to one
portion of food.
Prepare the food or drink per serving.
Consume prepared food or drink within 2 hours. Discard any unfinished food or drink.
Usage to be determined by a healthcare professional.
Storage
Store in a cool, dry place.
Once opened use contents within 6 weeks.
Replace lid firmly after use.
Do not refrigerate.
Order Information
Contact Nutricia Customer Care 0800 688 747
Stimulance

 

Product Code

 

Units per carton

 

Pharmacode

400g can

 

54013

6

 

2058979

 
Ingredients
Full ingredients list and nutritional information available on Factsheet.
Allergen & Cultural Information
Contains: soy.
Does not contain: wheat, egg, nuts*, lupins.
Halal certified.
No Kosher forbidden ingredients.
No gluten containing ingredients. No detectable gluten when tested to a sensitivity level of less than 5 parts per million (<5 ppm i.e. <5mg/kg).
Low lactose (lactose <2g/100g).
References
Green CJ. Fibre in enteral nutrition. SAJCN. 2000;13:150-60.
Edwards CA, Eastwood MA. Caecal and faecal short-chain fatty acids and stool output in rats fed on diets containing non-starch polysaccharides. Br J Nutr. 1995;73:773-81.
McIntyre A, Young GP, Taranto T, et al. Different fibers have different regional effects on luminal contents of rat colon. Gastroenterology. 1991;101:1274-81.
Morishita Y, Konishi Y. Effects of high dietary cellulose on the large intestinal microflora and short‐chain fatty acids in rats. Letters in applied microbiology. 1994;19:433-35.
Green CJ, Van Hoeij KA, Bindels JG. Short chain fatty acids (SCFA) and gas production of individual fibre sources and a mix typical to a normal diet using an in vitro technique. Journal of Pediatric Gastroenterology. 1998;26:591.
Poppitt SD, Livesey G, Faulks RM, et al. Circadian patterns of total 24-h hydrogen and methane excretion in humans ingesting nonstarch polysaccharide (NSP) diets and the implications for indirect calorimetric and D2 18O methodologies. Eur J Clin Nutr. 1996;50:524-34.
Additional Information
# MF6 is a unique, patented blend of six soluble and insoluble fibres (soy polysaccharide, cellulose, resistant starch, gum arabic, oligofructose and inulin) reflecting the proportions of the different fibre types in a healthy diet.
* Peanut (Arachis hypogaea), Almond (Amygdalus communis L .), Hazelnut (Corylus avellana), Walnut (Juglans regia), Cashew (Anacardium occidentale), Pecan nut (Carya illinoiesis (Wangenh.) K. Koch), Brazil nut (Bertholletia excelsa), Pistachio nut (Pistacia vera), Macadamia nut and Queensland nut (Macadamia ternifolia), and products thereof.