The science behind Souvenaid®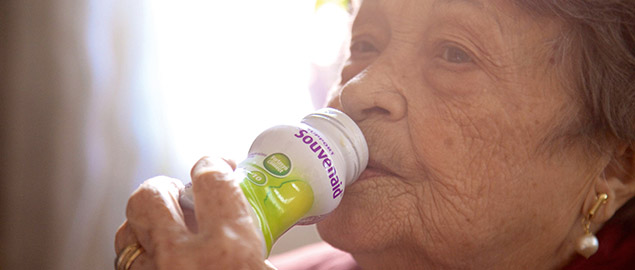 Key takeaways
Souvenaid® is scientifically proven in Early Alzheimer's Disease when taken daily for 3 years

Souvenaid® is scientifically proven with the world's first successful long-term clinical trial in early Alzheimer's disease using a nutritional intervention1
With over 20 years of evidence based research, Souvenaid® has been shown to support memory function when initiated in the early stages of Alzheimer's disease. An independent study funded by the European Commission, investigated the long term use and impact of Souvenaid on memory and cognitive function in the very early stages of Alzheimer's disease, including mild cognitive impairment. This was called the LiPiDiDiet study 1 The study investigators concluded that patients in this clinical trial who drank one bottle of Souvenaid daily for 3 years had less decline in their memory and thinking skills than those who were not on Souvenaid. These patients also had less brain shrinkage particularly in the area of the brain known as the hippocampus which is responsible for memory. Key results from the LiPiDiDiet 3 year study for patients who were taking Souvenaid once daily for 3 years:
Slowed the progression of memory and cognitive decline by 60%
Reduced brain shrinkage by 33%
Reduced the loss of everyday task performance by 45%
The study confirms the benefit of starting Souvenaid early in Alzheimer's disease, and shows that benefits can be sustained over 3 years Souvenaid's® effect on memory function has also been shown in 2 earlier clinical trials, in patients with early Alzheimer's disease taking Souvenaid® once-daily over 12 and 24 weeks, respectively.2,3
What if I still have questions?
If you feel that you still have questions, please take a look at our Frequently Asked Questions, send us an email or call our Souvenaid® team on 0800 688 742 .
References
Scheltens P et al. Alzheimers Dement 2010; 6: 1–10.e1.
Scheltens P et al. J Alzheimers Dis 2012; 31: 225–236
Soininen H, Solomon A, Visser PJ, et al. 36-month LipiDiDietmultinutrient clinical trial in prodromal Alzheimer's disease. Alzheimer's Dement. 2020;1–12.+ when taken daily for 3 years